CEMWorks develops advanced software for fast modeling of electromagnetic wave phenomena in complex electronic and optical systems. The software enables broadband Method-of-Moments solution of large multiscale problems of electromagnetic scattering on composite metal-dielectric 3D targets in homogeneous or stratified media. Software is applicable for a wide range of industrial and academic applications.
Core Technology



The CEMWorks software is based on broadband frequency-domain Method of Moments analysis accelerated with error-controllable Multilevel Fast Multipole Algorithm (MLFMA). The Method of Moments solution allows for rapid analysis of scattering on composite metal-dielectric objects featuring both homogeneous and inhomogeneous regions. Method of Moment analysis with multilayered media Green's function enables efficient analysis of wide range of 3D planar applications such microstip antennas, microwave circuits, and interconnects.
The process of geometry creation, mesh generation, and visualization of the computed fields is performed with Salome CAD, GMSH, and Paraview open-source platforms. This allows CEMWorks to offer cutting-edge CAD and computational technologies at a marginal price compared to the main-stream vendors of electromagnetic software while providing a full suite of pre-processing, computing, and post-processing capabilities.

Fig. 1: Radiation of GPS roof-monted microstrip antenna on Dodge Charger
Software Features
Salome CAD integration of the Wave3D suit allows the user to seamlessly:
– Create/modify, import/export (IGES, STEP, BREP), repair/clean CAD models

– Mesh CAD models, edit mesh, check mesh quality, import/export mesh (MED, UNV, DAT, STL)

– Handle physical properties and quantities attached to geometrical item

– Perform computation using one of Wave3D solvers

– Display computation results in scalar and vectorial forms


– Manage studies (create, save, reload)
Command-line version of the Wave3D suite allows for easy deployment on high-performance servers, supercomputing facilities, and popular cloud services with the following script controllable functionality:
–

GMSH

parametric geometry and material property control
–

GMSH

parametric control of surface and volume meshing
–

Wave3D

parametrically controlled electromagnetic analysis
–

Paraview

parametric visualization of vectorial near fields in slices and volumes, far field  patterns, as well as S-, Y-, Z-network parameter over parametric geometry, material, frequency or time sweeps.
Fig. 2: Geometry module of Wave3D-RWG powered by Salome: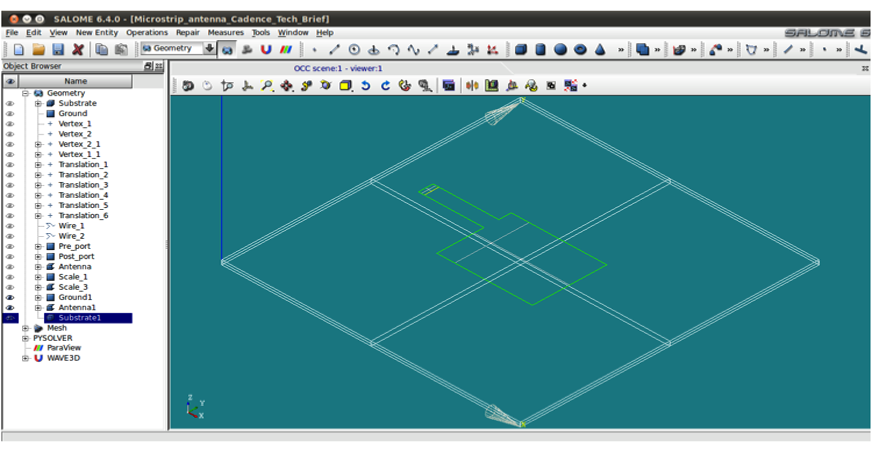 Fig. 3: Mesh module of Wave3D-RWG powered by Salome: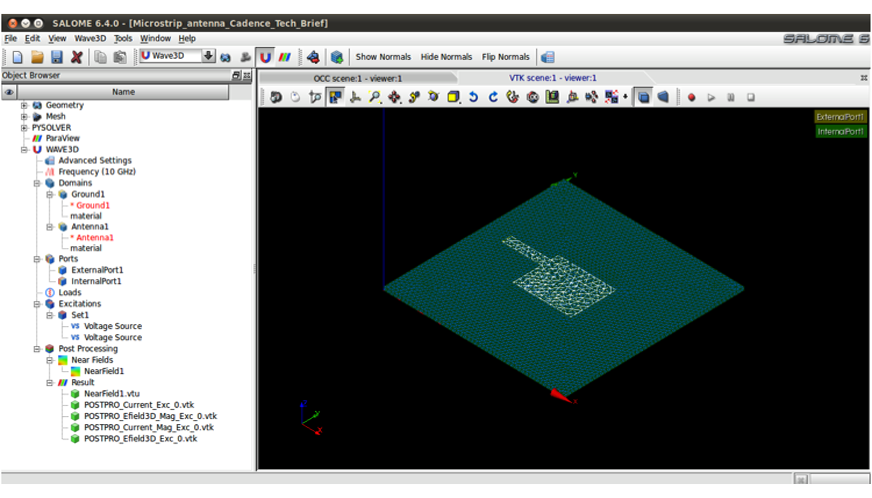 Fig. 4: Post-processing module of Wave3D-RWG powered by Paraview: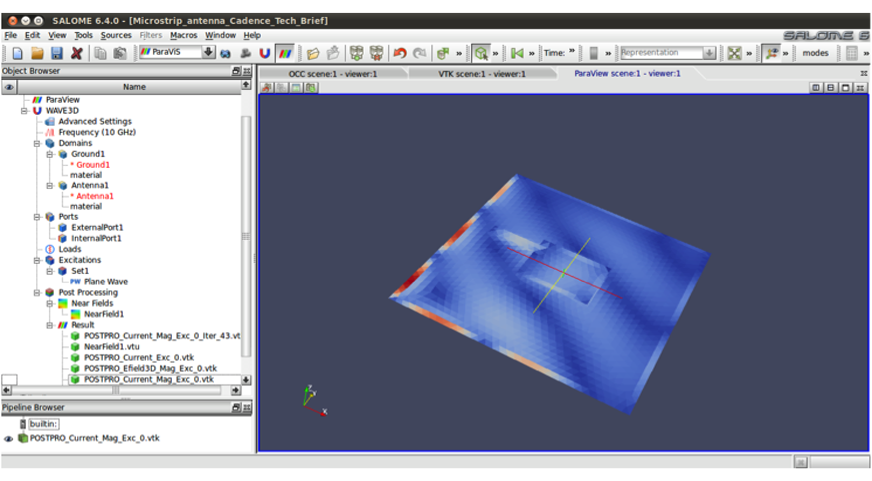 Applications of Wave3D Suite
The Wave3D modules are designed for rapid electromagnetic analysis of large scale composite electromagnetic models in broad range of applications including:
– Antenna analysis

– Antenna arrays

– Antenna positioning

– Electromagnetic scattering

– RFID applications

– Aerospace

– Automotive

– Microstrip circuits and antennas

– Radome design

– Waveguides and junctions

– EMC analysis

– Geophysical sensing

– Optical fibers

– Dielectric resonators